Use Encrypt PDF (formerly Protect PDF file) to limit access to a PDF document by setting passwords and restricting certain features, such as printing and editing (for additional reference, see How to password protect a PDF).
If you forget a password, you cannot recover it from the PDF. Maintain a backup copy of the original PDF that isn't password-protected.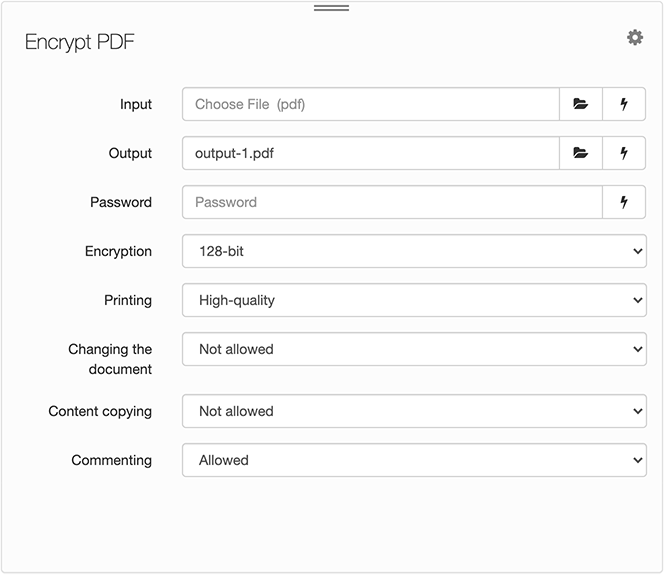 Field
Description
Input
Choose the original PDF that needs to be protected.
Output
Enter the name of the protected PDF.
Password
Enter a master password to secure the PDF and prevent changes to the security settings below.
Encryption
Choose between 128-bit (recommended) or 40-bit encryption.
Printing

Not allowed prevents users from printing the document.
High-quality (default) prints the document at maximum available resolution.
Low-quality prints the document at no more than 150 dpi.

Changing the document

Not allowed (default) prevents users from making changes to the document, while Document assembly allows users to combine the PDF with another document.
Allowed lets users insert, delete, and rotate pages, and create bookmarks and thumbnails using Acrobat Pro or another PDF editor.

Content copying

Not allowed (default) prevents users from copying any content, while For accessibility allows limited access for screen reader devices for the visually impaired.
Allowed lets users copy text, images and other content from the document

Commenting

Not allowed prevents users from using any commenting tools, while Sign and fill in forms allows limited access.
Allowed (default) lets users use the full range of commenting tools.