You can set (or override) the magnification settings for all bookmarks within a PDF document by using the Set Bookmark zoom (formerly Set magnification) workflow action. This is especially useful when combining two or more PDFs into a single, compact PDF document, but is separate from the default (initial) view settings for PDF documents when they are first opened. To change the Initial view, use the Edit document properties instead.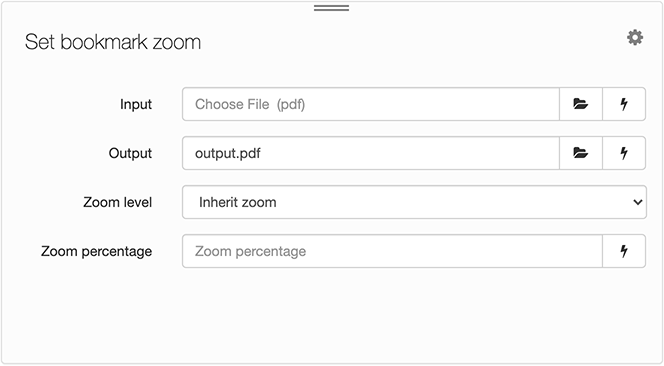 Field
Description
Input
Choose the original PDF file to be modified.
Output
Enter the name of the PDF after the bookmarks' magnification is set.
Zoom level (formerly Magnification)

ENHANCED Choose the zoom level when bookmarks are viewed. Options include:

Inherit zoom
Fit page height
Fit page width
Fit page
Zoom to % (If you choose this option, specify the exact zoom level in the Zoom percentage field).

NEW

Zoom percentage
If you chose Zoom to % for the Zoom level, enter a percentage. For example, 50%.