At its core, the Typefi Document Explorer allows you to look at the structure of your Typefi-tagged document. Via the Typefi Document Explorer, you can:
Explore your document through different views
Access the Typefi Document Explorer by clicking the Explore Document button, located in the Tools area on the Typefi ribbon.

Depending on the size of your document and the amount of Typefi tags used in your document, it may take a moment for the dialogue to open.
There are two views available: Outline and Categories. By default, the Typefi Document Explorer will open in the Categories view.
In both views, validation warnings are shown in orange with a question mark, while errors are shown in red with a forbidden symbol. The messages appear in the Messages area at the bottom of the Typefi Document Explorer.
Categories view
The Categories view shows all Typefi tags in use in the document, sorted by category. Categories are listed on the left-hand side of the dialogue.
Click + to expand a category, and display all relevant sub-categories, such as Paragraph and Character Styles in the document.
Click on a sub-category to filter the entry listings in the column view (on the right-hand side of the dialogue), to display only those in that sub-category.
If you click an entry in the column view, that content in your document will be automatically selected and visible behind the Typefi Document Explorer dialogue.

Outline view
Click Outline to show a view focused on the Typefi tag hierarchy.

Additional functions
Next to the Outline and Categories view buttons, you can find Typefi tag function buttons.
Some Typefi tag functions require a workflow to be attached to your document to work. If a workflow is not attached, the impacted Typefi tag function buttons will be greyed out to indicate the function is unavailable.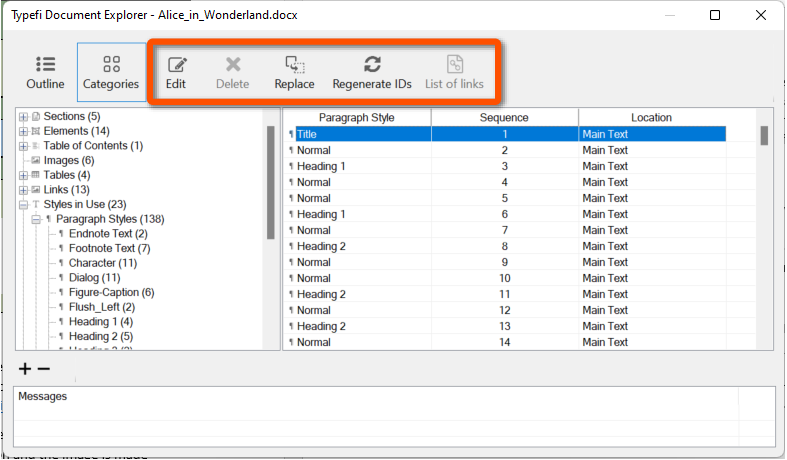 Edit
To edit a Typefi tag, select an entry and click Edit to open the Typefi options for that tag.
For example, having a Section selected when clicking Edit will allow you to choose a new section.
Delete
To remove a Typefi tag, select it and click Delete.
This will only delete the Typefi tag. It will not delete any text content that is present within that tag.
Replace
To do bulk replacements of Typefi tags, click Replace.
This opens the Replace dialogue—the same dialogue as if you had clicked the Replace button in the Tools area of the Typefi ribbon.
Typefi Writer 8.7.4 64-bit edition introduces a new feature that allows you to replace local formatting in Word with specific InDesign Character Styles.
Regenerate IDs
If the Typefi Document Explorer is showing you errors about duplicate IDs, it's usually a result of copying and pasting Typefi tags.
Click Regenerate IDs to fix this issue.
List of links
Allows you to export a text file listing all the linked assets in your Writer document.
For more details, see Exporting a list of links.