Check out the new features in Typefi Writer.
System requirements: Typefi Writer system requirements
Typefi Writer 8.7.4 (64-bit edition)
Released 23 September 2022
Replace local formatting
Working between Word and InDesign has many challenges, and character styling is one of them.
Word and InDesign's default fonts are different, and the supported fonts may not support intelligent linking—especially those with multiple weights like Light, Medium, Bold and Black. InDesign's Character Styles solve these problems by explicitly defining what font to use in which location.
Typefi Writer is the bridge that connects your local formatting to Character Styles—avoiding unexpected character formatting in your final outputs.
Typefi Writer 8.7.4 will help you to identify all local formatting in use in your documents and enable you to replace them with Character Styles in a few clicks—ensuring your fonts publish as expected.
To learn more about local formatting, see Identify local formatting in use and Replace Local formatting.
Easily see all document links
View all document links in one location with Writer's Typefi Document Explorer. You can also choose to export a list of files linked to a particular tagged Word file.
In Writer 8.7.4, we introduced a new Links category to the Typefi Document Explorer. This category offers you a way to view all linked files present in your current document. You can then click List of links to produce a simple text file containing all of those file links from your document. Missing items are marked as [Missing] making them easy to share and resolve with your content collaborators.
For more information, see Exporting a list of links.
Enhanced workplace collaboration
Improved OneDrive/Sharepoint support: with Typefi Writer 8.7.4, you can now run a job (not necessarily owned by you) that includes links to files stored in your company's OneDrive/Sharepoint, without missing links.
Run Writer in multiple users: users working from home who are required to log in to and run Writer from a terminal server at work, can now print jobs anytime. Writer 8.7.4's Print Manager works by listening on a new port for each logged-in user.
Improvements
The time needed to prepare documents for publishing has been reduced significantly, especially if they contain lots of conditions.

To align with the way the Import DOCX action works, if your InDesign template contains a Default section, the job will run as expected you about the need to insert a section.

Typefi Writer now informs you that an element cannot be inserted within the Typefi Section or Typefi Metadata tags.

A hard return or line break within a Field code (such as a hyperlink or Typefi tag) is now flagged as a structural error. See Structural errors in Field Codes for details on how to fix this.

Writer 8.7.4 includes support for Edifix's API 2.0 which operates asynchronously. The new API allows for more efficient resource use, higher processing volumes, and job drop-off capability when checking references.

When inserting hyperlinks or cross-references to multiple documents, Typefi Writer now shows all open documents and informs you if any files are not attached to the same workflow.

If a paragraph style contains an alias that matches the name of an existing paragraph style, the Typefi Paragraph styles panel will show a warning icon. Hovering over the paragraph will give you more information.


Columns in Document Explorer can now be sorted.
Fixes
Interface tweaks:

Matched parts of the Typefi Writer UI to match the Windows 11 aesthetic.
Updates to the Edit metadata dialogue.

Removed the Messages and Wrench icon because they served no purpose.
Added (optional) to the Metadata type label.

Updates to the Metadata category in Typefi Document Explorer.

The value of a metadata entry is now shown.
Added a column to show the (optional) Metadata type.
Provide a warning if Metadata contains no value.

Some borders were cut off in the Edifix connection dialogue in Spanish.
Some interface items were cut off within the Insert Section dialogue was opened on monitors with a 1920x1080 resolution.

Restored the End TOC tag (originally removed in 8.7.2) as it caused issues with the Word to CXML converter).
Added fixes related to TLS 1.2 support to improve security as outlined in this FAQ.
Added Spanish translation to a warning about an audio element not being inserted into a Typefi Section.
If, when editing an Excel spreadsheet using the arrow keys, you set a preferred width, the preferred width is now retained the next time you open the dialogue.
Inserting a Typefi Element when Apply selected style to multiple paragraphs is checked no longer applies the selected style to the Typefi tags.
Clicking an empty area of the Typefi Writer Paragraph Styles panel no longer produces an Object reference error.
When not connected to the internet, you will receive a human-readable warning instead of a ServerConnection.Connect warning.
You are now able to edit an element containing a link stored on a Typefi Server without receiving a The linked file cannot be found at the given path error.
Typefi Writer 8.7.3 (64-bit edition)
Released 18 April 2022
Updated several libraries to the latest version to improve security
Configured Typefi Writer to use TLS 1.2 and .NET framework 4.7.2, which means your data is protected in transit
You can now "do more" in fewer clicks:

Click the top half of the Media button to quickly insert an image; click the top half of the Table button to quickly insert a table
When inserting an image, you no longer need to select All files to choose a SVG or IDMS image
The Insert Element dialogue now auto-focuses to the Element name in the Element structure so that you can immediately choose the Element path from your PC or server

Fixed an issue where cross-references to paragraphs did not output any content
Added Nilupul Jayasekara to the developer credits (located in the About dialogue). Many thanks!
Changed "Edición de 64" to "Edición de 64 bits" in the installer
Updated our copyright date from 2021 to 2022
Typefi Writer 8.7.2 (64-bit edition)
Released 7 February 2022
Save time and improve your bibliography accuracy with Edifix
Edifix is an online bibliographic reference solution that automatically processes bibliographic references to help you meet style requirements, ensure accuracy, and provide links to cited sources.
With Typefi Writer 8.7.2, you can now use Edifix to correct, link, and format your references without leaving your document.
For more information, see Use Edifix in Typefi Writer.
Apply paragraph styles faster
Applying paragraph styles to lengthy documents without any existing styling can be a tedious job, involving a large number of clicks. First, you had to move your cursor into the paragraph you wanted to style, select a paragraph style, and then move your cursor into the next paragraph you wanted to style. Rinse and repeat until all the paragraphs are styled correctly.
To make this process easier, Typefi Writer 8.7.2 includes a new setting: an Apply selected style and move to next paragraph checkbox in the Paragraph Styles panel.
When Apply selected style and move to next paragraph is selected, Typefi Writer will automatically move your cursor to the next paragraph after you apply a paragraph style. With this checkbox enabled, you can start at the top of your document and apply paragraph styles without moving your cursor. 🎉
Tables are skipped as it is easier to select a range of cells in a table and apply a style than it would be to go through every single cell in a potentially large table.
Fine-tune Typefi Writer with new advanced options
Typefi Writer 8.7.2 includes new advanced configuration options.
Missing link validation
You can now choose if Typefi Writer should validate image paths. Go to Typefi Writer Options → Workflow options and select or deselect Check for missing links.
Print Manager settings
You can now choose whether the Typefi Print Manager automatically starts when opening Typefi Writer. This setting is helpful if you need to disable the Print Manager from starting automatically if security software prevents Print Manager from running.
Troubleshooting logs
When an issue occurs, it's important to collect information to diagnose and fix the issue. With Typefi Writer 8.7.2, you can now turn on troubleshooting logging for easier troubleshooting.
When you turn on troubleshooting logging, Typefi Writer automatically collects diagnostic information and saves it to a log file on your computer. The log file contains information about checking in or out files, attaching workflows, and publishing documents. The information in the log file helps Typefi support staff detect, diagnose, and fix issues and help make improvements to Typefi Writer.
To prevent potential performance issues, we recommend that you only turn on troubleshooting logging when specifically requested by support staff.
Improvements
Typefi Writer now informs you when you try to attach a workflow or check in a file not in the DOCX format.
When inserting cross-references, you can now view the source document. If the source document can't be found at the original location, Typefi Writer will show you the last known location.
Several improvements related to Content XML IDs:

When you copy and paste Typefi components using the Paste button in the Word ribbon or use Ctrl + V keyboard shortcut, Typefi now regenerates the Content XML ID. Pasting via right-click will not regenerate a new ID.
You can now regenerate IDs in the Document Explorer. However, regenerating IDs may cause orphaned Element References.

When inserting a Typefi Table of Contents (TOC), Typefi Writer no longer inserts the END TOC tag because Typefi TOCs will never contain content in the Writer document.
The About menu includes three new options: What's new, Help, Guides & Tutorials, and Report a Bug.
Fixes
Typefi Writer no longer displays a 'Macros have been disabled' security warning when opening a document.
Restored the ability to publish a subset of your Typefi Sections.
Typefi Writer no longer reports Typefi Field codes as changed when Tracked Changes in Word is turned on.
When inserting metadata, the cursor is now active at the end of the META tag.
If you set a preferred width when editing an Excel spreadsheet, the preferred width is now retained when editing the worksheet.
Typefi Writer no longer reports a 'The requested member of the collection does not exist. WordLibrary.RangeContainsTablePart' error when inserting a condition inside a table cell.
Typefi Writer no longer asks you to save changes to your document if you haven't made any changes.
The Typefi Style Sheet (TSS) is now updated when the document loads if a valid internet connection is available.
Typefi Writer 8.7.1 (64-bit edition)
Released 1 July 2021
Replace missing links, fast
Before, finding and replacing missing links was a time-consuming process. Now, Typefi Writer automatically detects if you have missing links. If you do, you can replace multiple missing links at once.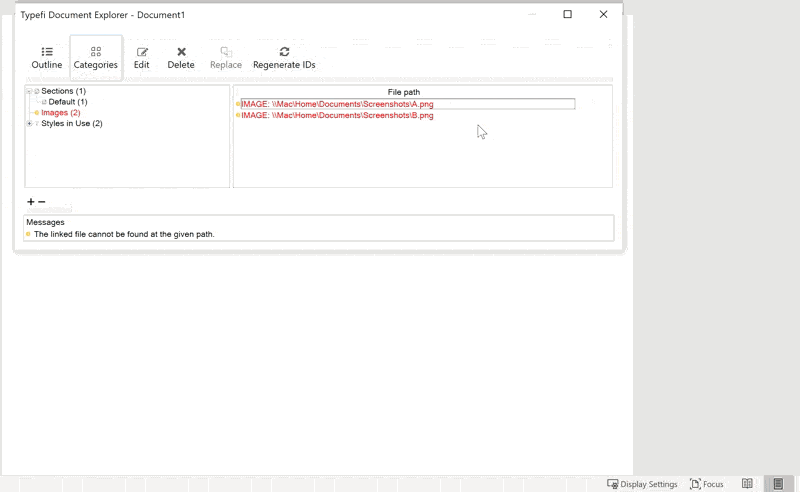 For step-by-step instructions, see Find and resolve missing links.
Improvements
Improved speed and performance:

Minimised the number of API requests Typefi Writer sends to Typefi Server.
Optimised the code to make the Document Explorer load a little bit faster. (You'll notice this most when working with larger documents.)
Made it faster to insert an Element Image link from a server. Before, it would start at the root of the server; now, it 'bounces back' to the last used folder.
Made it faster to publish documents within a project. Before, the first workflow in a project was automatically selected; now, the most recent workflow run is selected.
Increased the time interval (400 milliseconds to 1 second) that the Typefi Print Manager sends requests to Typefi Server to prevent 'Failed authentication attempt' errors in the Admin log.
Made it faster to navigate workflows if you have multiple Typefi Servers. When choosing a workflow, double-click a Typefi Server name to hide its associated workflows; click once to show them.

Made it easier to edit cross-references. Now, if you try to edit a cross-reference and the cross-reference source document is not open, you will see a warning message that tells you you cannot edit the cross-reference. Click the filename in the warning message to get more details, including the full file path.
Made it easier to insert an End Element tag. You can now insert an End Element tag at the end of the paragraph, even when the cursor is in the middle of a paragraph.
Updated Writer's validation checks to allow Fixed Elements to have Element references. Before, Writer would prevent such documents from publishing with this error: 'ERROR: Element reference could not be inserted to the fix element "[element]" without its parent Section'. Now, the job runs successfully.
Removed hidden bookmarks from temporary documents that would sometimes cause publishing issues. The previous workaround included running custom code to delete these hidden bookmarks.
Added a disabled version of the Delete icon in the Edit Element dialogue.
Disabled the Replace button in the Document Explorer for Element references and Typefi Fields.
Added an error message when you try to publish a document where the attached workflow either does not contain Import DOCX or Import DOCX is disabled.
Added a warning message when you try to publish a document that contains new features in Content XML but uses an older version of Import DOCX.
Rewrote several error and warning messages to be more user-friendly:

Rewrote the error message for deleting a cross-reference without a cross-reference source. Before, it was 'Cannot locate the source of the cross-reference'. Now, it is 'The cross-reference source cannot be found in the current document.'
Rewrote the error message for entering an incorrect server address. Before, it was 'Invalid URL: The Authority/Host could not be parsed. ServerConnection.SendRequest message'. Now, it is '[address] is not a valid http/https address.'
Rewrote the error message for adding a hyperlink to a document that is not currently open. Before, it was 'Cannot locate the source of the hyperlink'. Now, it is 'The document <document-name> is not open so the hyperlink source cannot be located'. Click the document name to get more information about where the source document is stored.
Added the name of the server you are trying to connect to in the error message about connecting to out-of-date servers.

Rearranged the dialogues to be compatible with different resolutions.
Edited the wrench icon in the Edit Element dialogue slightly bigger so that it is clearly visible.
🥳 Updated our copyright date from 2020 to 2021.
Fixes
Fixed several issues relating to Typefi Sections:

Fixed an issue where, if a Typefi Section had two or more occurrences of the same Typefi FIeld and you tried to edit the last Field in the Document Explorer, an 'InvalidArgument=Value of "2" is not valid for "index"...' error appeared. Now, you can edit the Field without any errors.
Fixed an issue where you could erroneously edit the Name and Type fields in the Edit Section dialogue. Now, you cannot edit the Name and Type.

Fixed several issues relating to Typefi Elements:

Fixed an issue where deleting a nested Element resulted in an 'Object reference not set to an instance of an object' error. You can now delete nested Elements without any errors.
Fixed an issue where you couldn't edit an Element Field in the Edit Element dialogue because the dialogue was blank.
Fixed an issue where changing a Typefi Element with an Element Field to an Element without an Element Field didn't remove the Element Field from the document.

Fixed several issues in the Replace dialogue:

Fixed an issue where replacing a Typefi Section two or more times caused the Sections listed in the dialogue to be empty. Now, when you replace a Section, the Section names are listed in the dialogue.
Fixed an issue where replacing all character styles only replaced some of them. Now, when you click Replace all, all character styles are replaced.
Fixed an issue where clicking the column header did not actually sort the columns. Now, clicking the column headers sorts the columns in ascending order.
Fixed an issue where clicking an icon in the Find what column caused the icons to change to the Conditions icon.

Fixed an issue when trying to check in a file without being connected to a Typefi Server. Before, the Upload Document dialogue incorrectly appeared. Now, the Connect to Server dialogue appears.
Fixed an issue where selecting a file from a local server in the Insert Element, Edit Element, Insert Media, and Edit Media dialogues didn't actually insert the file into the document. Now, files from a local server are inserted.
Fixed an issue where attaching workflows that used extra-large templates (those with a lot of cruft or unused stuff) caused a 'String parameter too long. Document.SaveTSSText'. Now, you can attach workflows that use extra-large templates without any error.
Fixed an issue where replacing missing links via the Media dialogue caused the Document Explorer to move to the background.
Fixed an issue where, if metadata was longer than one line, an error message said, 'DisplayText cannot span more than one line!'. Now, metadata can span multiple lines.
Fixed several instances where text was cut off or not clearly visible:

In the Application Logs dialogue, the text 'Log server errors only' text was cut off.
In the Insert Element dialogue, the filename or comment was sometimes cut off.
In the Insert cross-reference dialogue, the details were cut off after selecting a bookmark.
Image, video, and audio filenames were not clearly visible in the Edit dialogue.

Fixed an issue in the Edit Hyperlink dialogue where the Type field was auto-focused instead of the OK button.
Changed 'file name' to 'filename' in the Edit Element dialogue.
Typefi Writer 8.7.0 (64-bit edition)
Released 8 October 2020
Rewritten from the ground up for 64-bit compatibility
The 64-bit edition of Writer is completely rewritten from the ground up, using the C# .NET programming language. (The 32-bit edition of Writer was written in Visual Basic.)
But, while everything underneath is new, you should feel right at home because the 64-bit edition of Writer features the same user interface as the 32-bit edition, except for the new floating panels. Since our developers used C# .NET instead of Visual Basic, they were able to make the paragraph and character styles panels floating, which means you can tag your content faster, with less potential for errors.
To install the 64-bit edition of Writer, see Install Typefi Writer and follow the instructions for the 64-bit edition.
Floating style panels
Apply paragraph and character styles to content, faster and with less potential for error, with the new floating paragraph styles panel. You can move the panel wherever you want on the screen, and apply the same paragraph style to different paragraphs, fast. See how it works in this video:
For step-by-step instructions, see Apply paragraph styles and Apply character styles.
Improvements
Improved the process for installing Writer: you no longer have to worry about installing Writer in the wrong Startup folder. Now, Writer is installed in a different location, so you do not need to move the Writer file when doing an install with elevated privileges.
Rephrased the warning message when you try to publish a document with warnings. Before, the warning message was "The document has warnings and may not print as expected. Do you want to see warnings?", which expected a yes or no answer, but the only buttons were OK and Cancel. Now, the warning message is "This document has validation warnings and may not publish as expected. Are you sure you want to continue?". Pressing OK means the job will proceed to the Print Manager for publishing and pressing Cancel means Writer will open the Document Explorer dialogue so you can see the warnings.
Fixes
Fixed an issue where Project Fields remained in the Content XML, despite deleting them in the InDesign template and re-running the job. Now, when you re-run the job with the updated template, the Content XML does not contain the deleted Project Fields. Specifically, Typefi Writer will search for and delete any Typefi Fields that do not exist in the TSS when:

you click Update (Typefi → Workflow → Update),
you click Refresh,
you attach a new workflow for the first time to a document (Typefi → Workflow → Attach), or
the new workflow is different from the workflow that was previously attached.
Typefi Writer 8.7.0
Released 17 April 2020
Content XML 3.2
Typefi Writer 8.7.0 adds support for Content XML 3.2, which includes: