The Cleanup InDesign EPUB workflow action removes and fixes the "cruft" (unproductive, wasteful, does not add value, obsolete, redundant) from EPUB files produced by Adobe InDesign.
Cleanup InDesign EPUB was developed to cleanup the cruft from EPUB files produced by Adobe InDesign CS. However, the latest versions of InDesign—CC2018 and later—do not produce as much cruft when exporting EPUB files. While InDesign has significantly improved its export to EPUB functionality, we still recommend adding Cleanup InDesign EPUB to your workflows to make sure the resulting EPUB files are optimised for automation.
Cleanup InDesign EPUB removes the cruft by:
Removing unnecessary CSS styles from the InDesign-generated CSS file,
Removing the numbers from the duplicate class names in the HTML files,
Adding iBooks display options to each generated EPUB file,
Ensuring the EPUB file passes EPUB3 validation,
Specifying the location of the table of contents for Kindle devices, and
Preventing two EPUB cover images from appearing.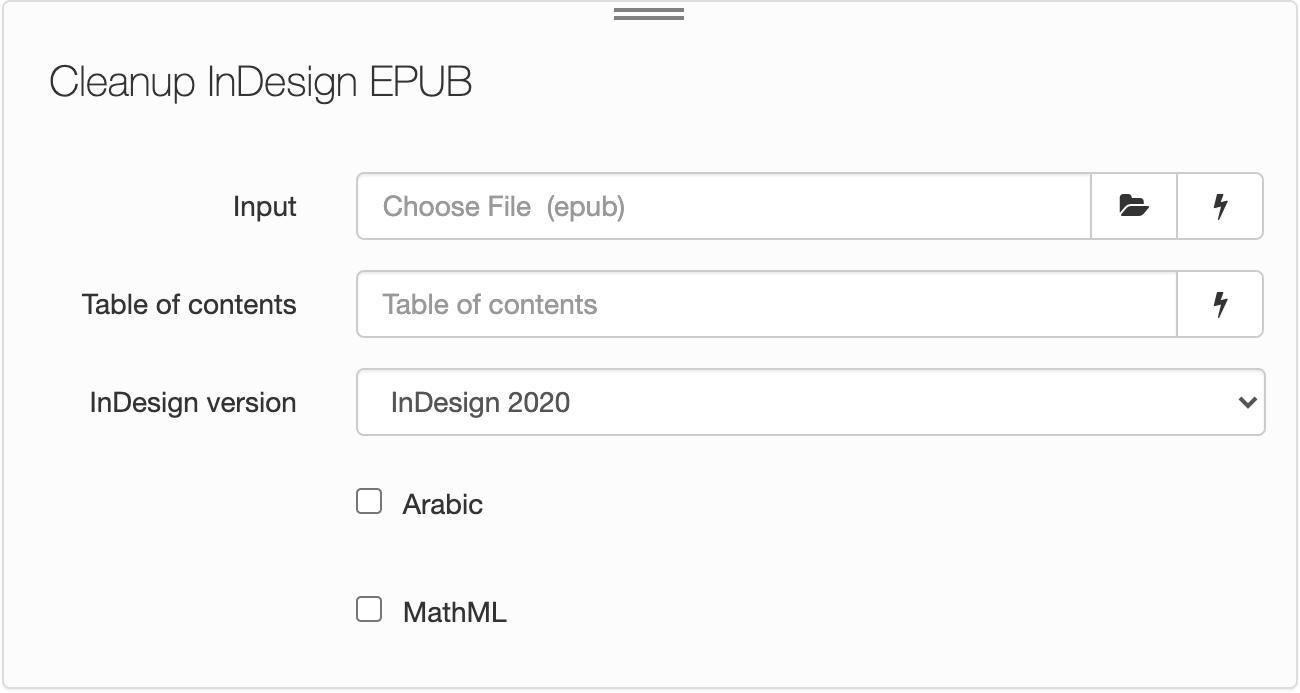 Field
Description
Input
The path to the input e-book (.epub). Click the Choose File icon to choose the EPUB file to cleanup. Alternatively, enter the file path. For example, /path/to/input/input.epub
Table of contents
If your EPUB is to be published on a Kindle device, enter the table of contents filename (.html or .xhtml) to be used in Kindle's guide.

For example, if you enter TOC.html, the resulting Kindle guide will be <guide><reference type="toc" title="Table of Contents" href="TOC.html"/></guide>

If you do not specify a table of contents, the <guide> element for Kindle is not generated.
InDesign version
Choose the InDesign version. Options include:


InDesign CC 2018
InDesign CC 2019
InDesign 2020

The default version is InDesign 2020
Arabic
Select if the content in the input EPUB file should be treated as Arabic (that is, the reading direction is right-to-left.) Deselect if the content is left-to-right.

The Arabic checkbox is deselected by default.
MathML
Select if the input EPUB file includes support for MathML. Deselect if the input EPUB file does not support MathML.

The MathML checkbox is deselected by default.
You can also use workflow variables to specify input fields. To insert a workflow variable, click the lightning bolt icon

and choose a variable from the pop-up menu.