This article guides system administrators in the process of purging file versions to free up storage space on Typefi Server.
Purging files in Typefi Filestore
Purging file versions allows you to delete previous versions of a file permanently. Enabling versioning allows you to maintain records of changes and restore previous versions as needed. However, keeping versions can increase your Typefi storage usage.
Use case for Purging file versions
Possible Scenario: Almost a year ago, you enabled file versioning for your team, and you know that modifying files and saving them as new versions can increase your team's storage usage. As a system administrator, you want to ensure everything runs smoothly, so you check the Typefi Dashboard (Admin → Dashboard) to get an overview of your storage space. You discover that your Typefi storage space is low, and you need to free up space to prevent job failures for your team.
Solution: To free up space, you can configure rules to remove older file versions from Typefi Server. Go to the Filestore tab (Admin → Filestore) to manage these rules. You can choose to set two rules:
Max # of Versions to Keep

Days to Keep Files
Example: Suppose your team generates approximately 30 versions per file within 90 days, resulting in excessive storage consumption. To keep your Typefi storage space clean, you want to purge files every three months, keeping the latest ten file versions. To do this, enter the value of 90 in the Days to Keep Files field and 10 in the Max # of Versions to Keep field. Then, click on the Purge button to apply the changes. Typefi Server will automatically remove all file versions beyond the 10th version after 90 days.
Configure rules to purge file versions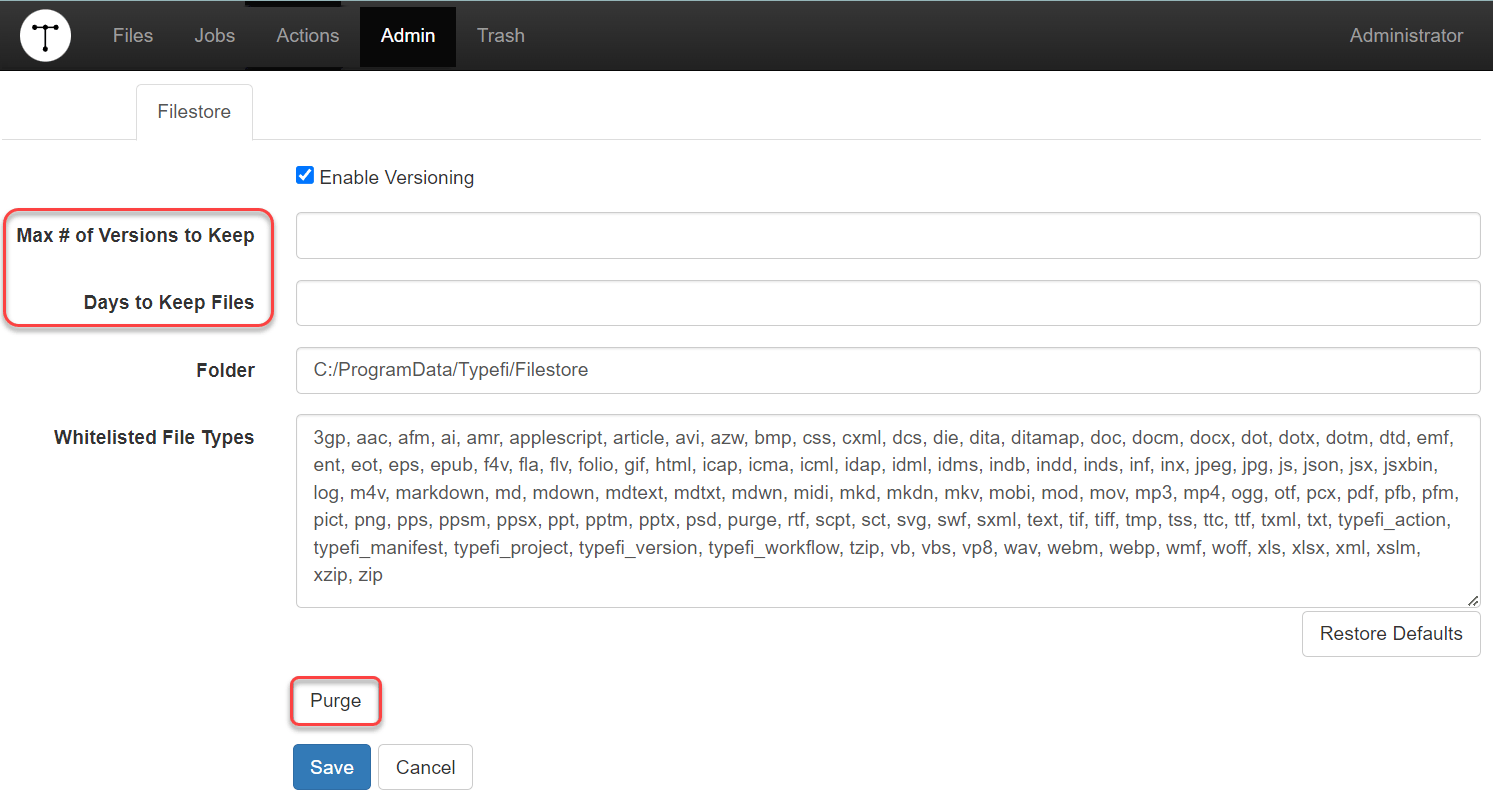 To configure rules to purge file versions, follow these steps:
Sign in to your Typefi Server as an administrator.

Go to the

Filestore tab

(Admin → Filestore).

Enter a value in the

Max # of Versions to Keep

field.

Enter a value in the

Days to Keep Files

field.

After defining both values, click

Purge

.

Confirm the details in the dialogue box (see below) and click

Purge

again.

Remember that once you purge a file version, it cannot be recovered. The purge feature should only be used to free up storage space, as there is no way to retrieve purged file versions.
What happens if…?
What if the set value for Max # of Versions to Keep exceeds the number of versions stored in Typefi Server?

Typefi Server will only remove versions if they exceed the limit you set.

What happens if you accidentally purge a file version that you need?

You

cannot

recover purged files. We recommend using an external backup system to prevent losing important files.

What happens if you accidentally set the wrong rules for purging file versions?

Setting incorrect rules may lead to unintentionally deleting important files that you mean to keep. To prevent this, double-check your rules before implementing them and review and adjust rules as necessary.
See also