Typefitter annual subscriptions are available in three editions: Standard, Professional, and Server.
Adobe InDesign support
Typefitter supports Adobe InDesign releases on a rolling, three major version schedule, meaning Typefitter 5.6 now supports InDesign 2024 (v19.0.1 or later), InDesign 2023 (v18), and InDesign 2022 (v17).
System requirements: Typefitter 5 system requirements
Typefitter 5.6
Released 21 November 2023
Typefitter 5.6 now supports InDesign 2024 (v19.0.1)—which fixes an Adobe bug in the previous Windows version of InDesign 2024 (v19.0.0) that breaks your ability to install third-party plug-ins. For more InDesign 2024 compatibility news, please see the article Typefi compatibility with InDesign 2024.
Downloads
Typefitter 5.5
Released 10 October 2023
InDesign 2024 support
Typefitter 5.5 adds support for Adobe InDesign 2024 (v19), which was released on 10 October 2023.🎉 For more InDesign 2024 compatibility news, please see the article, Typefi compatibility with InDesign 2024.
Windows users: There is a bug in the recently released Windows version of InDesign 2024 (v19.0.0) that breaks your ability to install third-party plug-ins. We recommend updating to InDesign 2024 (v19.0.1 or later) and installing Typefitter 5.6.


Downloads
Typefitter 5.4
Released 30 August 2023
Downloads
Fixes
White Space Rivers are no longer automatically highlighted for new documents.
Rule Defaults now apply to newly created Automated Rules.
Typefitter 5.3
Released 17 January 2023
Take advantage of the latest release of Adobe InDesign Server
Typefitter 5.3 adds support for Adobe InDesign Server 2023 (v18), which was released on 17 November 2022. 🎉
Downloads
Typefitter 5.2
Released 15 November 2022
Take advantage of the latest release of Adobe InDesign
Typefitter 5.2 adds support for Adobe InDesign 2023 (v18), which was released on 18 October 2022. 🎉
Downloads
Fixes
Reworked our algorithm for finding stories with overset text. Before, the rule violation did not find overset text errors in default and previously created profiles.
If you opened and edited a document created with Typefitter 5.1.0, the initially saved attributes did not convert to the Typefitter versions 5.1.1 and 5.1.2 which caused InDesign to crash. Now, this conversion process is fixed, and InDesign will no longer crash.
Finally fixed a Typefitter subscription validation error that caused active subscriptions to expire on their date of renewal. To avoid this, please upgrade to Typefitter 5.2 or later before your renewal date. If, for any reason, you cannot upgrade to Typefitter 5.2 or later and your license unexpectedly stops working, please reach out, and we can manually extend your subscription.
Typefitter 5.1.2
Released 6 October 2022
Downloads
Improvements
Added scripting support for integrations with InDesign Server
Typefitter 5.1.1
Released 16 March 2022
Downloads
Improvements
The white space river highlighter now ignores tab character
The Search pop-up menu is now disabled when Typefitter is deactivated
The Info panel is now empty if no errors are found
Renamed the "Fix holes at the bottom of columns" Profile to "Vertically justify columns"
Several improvements to our Spanish translation:

Added missing Spanish translations for "Error found that cannot be fixed by Typefitter" and the Deactivate Typefitter error dialogue
Corrected Spanish translations for "Fix All" and "Table rows"

Updated copyright dates to 2022
Fixes
Fixed several instances where InDesign could unexpectedly quit when:

Creating a new InDesign document
Fixing a rule violation
Using the "Paste without Formatting" command
Clicking the previous arrow in the Info panel

Fixed several issues relating to Profiles:

Profile settings are no longer reset after saving and reopening an InDesign document
Finding and fixing runts now finds paragraphs with short lines without having to modify the Profile first
(Windows only) Using the Undo keyboard shortcut within a Profile no longer creates an invalid rule

Fixed several issues relating to the Copyfit Slider:

Fixed the lag time between the Copyfit Slider and the cursor
The Undo keyboard shortcut now works when the cursor is on the Copyfit Slider

Fixed the issue that was caused the "A typefit style with that name already exists" error when opening InDesign
Typefitter can now fit paragraphs with custom tracking to an exact line count
The previous and next arrow buttons in the Info panel now work as expected
Fixed an issue where the calculated length of short last lines is larger than expected
When exporting to IDML, custom automated rule attributes (such as word spacing, letter spacing, and leading) are preserved instead of resetting to default values
Typefitter now uses the document's units of measurement to display values in the interface
Typefitter 5.1.0
Released 03 January 2022
Downloads
Introducing Typefitter 5 Professional
With Typefitter 5 Professional, fitting text has never been so quick, simple and effective. Typefitter 5 Professional includes all the Standard features (Copyfit slider, white space river highlighters, finding typographic issues), plus custom Profiles and the ability to automatically fix many issues. With a single click, Typefitter Professional can fix oversets, short lines, imbalanced columns and more.
Pro only: Set custom Typefitter Profiles
Profiles are a way for you to set granular controls for different types of text.
For example, you might set different Profiles for body text and headlines. In addition, each Profile can have different copyfitting rules, and different nudge amounts for the Copyfit slider.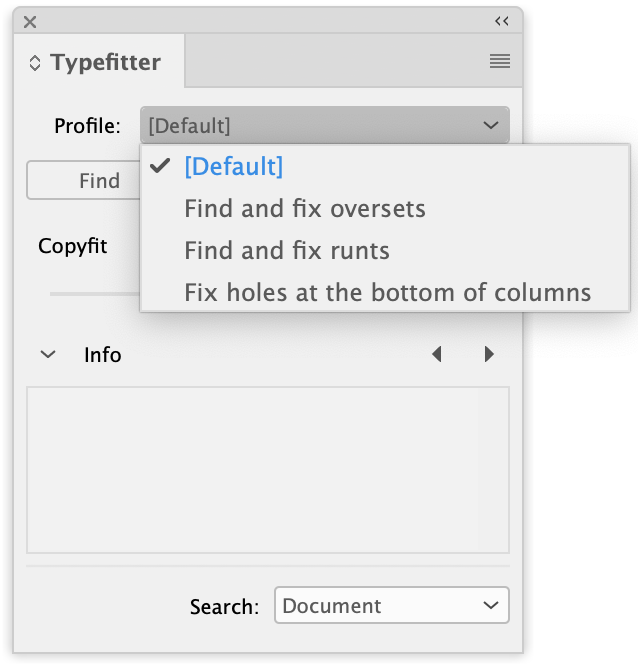 When you fix typographical errors with a Profile, Typefitter automatically applies the custom copyfitting rules you have defined within the current Profile.
To set up your Profiles, see Create and edit a Profile.
Pro only: Fix and Fix All typographical errors
The Fix and Fix All buttons build on the foundation of Typefitter 5 Standard's Fix button to now automatically remedy common typographical errors, according to the selected Profile.
Pro only: Do more with the Scripting Add-on
With theTypefitter 5.1 Professional scripting add-on, Typefitter can be integrated into any automated workflow. Apply custom Typefitter 5.1 profiles to different parts of your document simultaneously and leverage the power of Adobe InDesign scripting for greater control over your type.
Take advantage of the latest release of Adobe InDesign
Typefitter 5.1 adds support for InDesign 2022, released 26 October 2021. 🎉
Improvements
Added scripting support. To see everything that the scripting add-on can do, see Compare Typefitter 5 editions.
Typefitter 5 is now fully localised in Spanish.
Typefitter for InDesign 2022 now refers to 'master pages' as 'parent pages'.
You can configure your Typefitter preferences to:

Detect tables with widowed or orphaned rows.
Set the minimum length of white space rivers. The maximum length is 9.

Added additional menu items to the Typefitter panel menu and InDesign Help menu:

What's new goes to the latest Typefitter release notes.
Help, Guides & Tutorials goes to the Working with Typefitter section in our help centre for step-by-step guides.
Report a bug goes to the submit a support request form.

Typefitter search modifiers are saved to the InDesign document.
Improved the tightening and loosening algorithm. Before, the algorithm could only apply a single rule attribute at a time to fix a particular rule violation. Now, the algorithm uses multiple rule attributes at once to fix a particular violation.
Typefitter 5 now fully supports IDML. Before, if you exported to IDML, you would lose any Typefit Styles that you'd created. Now, they are preserved.
The white space river highlighting now overlays both InDesign's Composition → Highlight effects and Typefi's Highlight Copyfit Text effect.
Made the uninstall process for macOS simpler. Before, you had to delete all the individual Typefitter files. Now the Typefitter files are all located at InDesign → Plug-ins → Typefi → Typefitter. To uninstall Typefitter, delete the Typefitter subfolder.
Updated the Typefitter installer to our current branding guidelines
Improved the user interface of the Typefitter activation dialogue. Now, the text is sized and formatted correctly.
Fixes
InDesign no longer crashes when fixing stories with short final columns.
Reworked our algorithm for finding typographic errors. Before, the Info pane combined multiple issues into a single issue without providing a suggested Fix. Now, the Info pane shows each Issue and suggested Fix separately.
Typefitter no longer gets stuck finding errors when Include Parent Pages (formerly Include Master Pages in InDesign 2021 and earlier) is unchecked.
The white space river highlighter now works without you having to reset your InDesign preferences or export the InDesign document to IDML.
When requested, Typefitter now deactivates instead of remaining active until you quit InDesign
After deactivating Typefitter, the status message in the About dialogue now shows 'Evaluation expired!' instead of '-1 days left for evaluation'.
Typefitter 5.0.1
Released 16 September 2021
Downloads
Improvements
Added a tooltip to features not available in the Standard edition (such as the Fix & Find and Fix all buttons). Before, these buttons were disabled without any explanation. Now when you hover over these buttons, you will see This feature is available with the Professional edition.
If you enter an out-of-range Copyfit Slider value, the error message now tells you the current Slider range.
When setting the Copyfit Slider limits, the tab order is now row-based, not column-based.

You can now click a field label in the Typefitter Preferences and Typefitter panel to select its associated control.
Fixes
The Typefitter About panel now updates your activation status automatically. Before, when you clicked Activate, the About panel still showed that Typefitter was unlicensed unless you closed and reopened the panel.
Typefitter now detects overset text when the search scope is Selection.
Clear Copyfitting now resets all values in the Typefitter panel to their default values.
If Typefitter was unlicensed and you created a text frame, an errant Evaluation expired! message appeared. Now, you can create a text frame without seeing this message.
Added compatibility support between Typefitter 4 and Typefitter 5. To work on an InDesign document that was first manipulated with Typefitter 4, export the InDesign document file to IDML. Then, open it in Adobe InDesign with Typefitter 5 installed.
The My Account button in the About panel now links to FastSpring instead of SoftwareKey.
Several fixes for keyboard shortcuts:

Removed the Remove all typefit changes from document keyboard shortcut because it was redundant.
Consolidated the Clear Copyfitting Changes From Story/Document and Clear Copyfitting Changes from Selection into one keyboard shortcut: Clear Copyfitting. If you have text selected, Clear Copyfitting clears the copyfitting from the selected text; if you do not have text selected, it removes the copyfitting from the story/document.
Fixed a typo in the keyboard shortcuts: Fix All Copyfit Violation is now Fix All Copyfit Violations.

Several fixes for Typefitter localised in Spanish:

All violations are now found when the search scope is End of story, and you start the search from the beginning.
When installing Typefitter for the first time, the About panel incorrectly showed that only 2 days were left in your free Typefitter trial. Now, it shows the correct number: 45 days.
The complete Spanish text is now fully visible in the Typefitter panel.
Changed a keyboard shortcut name from Aflojar el parametro de Copyfit en 1 to Aflojar Copyfit en 1 to keep it consistent with the other keyboard shortcut names.

Several cosmetic fixes:

Redesigned the Typefitter compact mode so that the controls are not truncated. Now, compact mode shows all the controls and hides the Info panel and the Copyfit details.

Increased the height of the Info panel so that text at the bottom is not chopped off.
Changed the Evaluation expired! message to Your trial has ended. To continue using Typefitter requires a subscription. To purchase, please go to our website and click Subscribe Now. If you no longer need Typefitter, please uninstall it.
Typefitter 5.0.0
Released 01 June 2021
An intuitive inteface
To start, you'll notice that Typefitter 5 replaces Typefitter 4's Tighten and Loosen buttons with a Copyfit slider.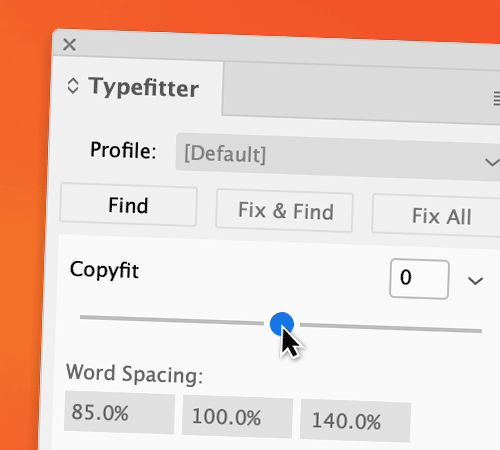 Drag the slider back and forth to visually copyfit your text, and toggle the disclosure triangle to see the justification and tracking overrides in real-time. You control the number of steps and how much Typefitter 5 adjusts each justification (H&J) setting. You can also assign keyboard shortcuts to the Copyfit slider to help you work in documents without using the mouse.
For step-by-step instructions, see Finding and fixing typographic issues.
Glanceable copyfit highlights
Typefitter also provides glanceable highlighters that reveal the relative tightness or looseness of your text. If text is tightened, you'll see an orange highlight; if text is loosened, you'll see a blue highlight. Typefitter 5 also uses tints to visualise the amount of tightness or looseness applied. The darker the tint, the more the text has been tightened or loosened.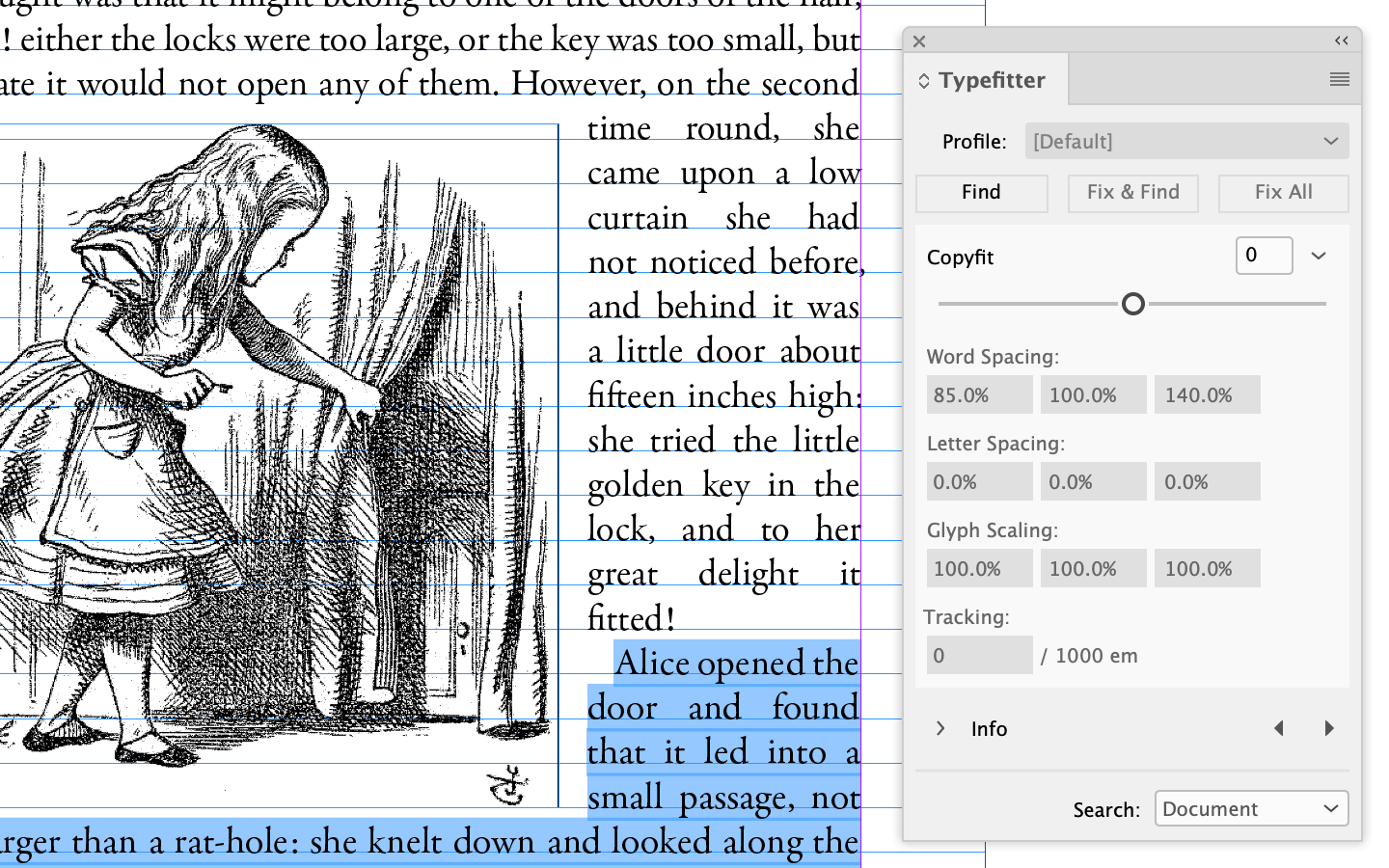 Or, if you want even more detail, you can optionally view the precise justification or tracking values applied.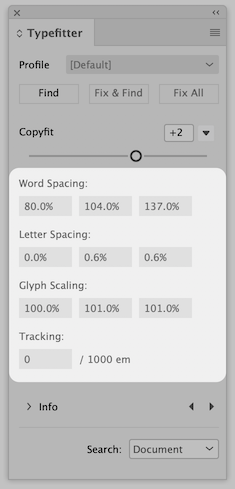 For more information, see See what changed.
Widows and orphans detection
Widows and orphans are a single line of text at the beginning (widow) or end (orphan) of a paragraph that has been separated from the rest of the paragraph by a column or page break. While InDesign's Keep Options can prevent widowed or orphaned lines, they often leave behind large gaps at the bottom of a page or column.
With Typefitter 5, you retain full control over when to force lines to keep together or when the content or design should allow the text to flow.
Typefitter 5 also finds widows and orphaned paragraphs within hierarchical content like lists, tables of contents, or an index.
For step-by-step instructions, see Finding and fixing typographic issues.
White space rivers detection
Sometimes the space between words can distract, drawing a reader's attention away because of an unexpected vertical gap in the text. Instead of squinting at your screen or turning a page proof upside down so you can see patterns and shapes in the text, enable Typefitter 5's white space river highlighter to reveal only those word spaces that align across consecutive lines.
For step-by-step instructions, see Identifying white space rivers.
Improvements
Lowered the annual subscription price from USD $59.88 to $36 (plus local taxes).
Increased the free trial length from 20 days to 45 days (6 weeks).
Added several improvements to the searching experience:

You can now search for typographic issues within a specific range (similar to searching InDesign's Find/Change). Available ranges include:


Document (default): search the entire document.
Story: search the story that contains the insertion point or selected text.
End of Story: search from the insertion point. End of Story only appears if an insertion point is placed.
Selection: search only the selected text. Selection only appears if text is selected.

You can now add modifiers to improve the search performance by restricting or limiting the scope. All modifiers are enabled by default and can be disabled ad hoc (regardless of the selected search range). These modifiers are supported:

Include Master Pages.
Include Footnotes.
Include Tables.

Added suggested fixes for common typographic issues. While Typefitter 4 only detected the problem, Typefitter 5 also provides suggested fixes. For example, Problem: Overset text: 13 characters. Fix: Edit paragraph style settings, resize the text frame, or edit the text to fit within the frame. Add text frames to the story if necessary.
Improved short line (runt) detection. You can now define short lines as a specific number of characters or a percentage of the overall line length. Defining short lines as a percentage is especially useful for very wide or narrow line lengths.
Cleaned up the display names for Typefitter panel and context menus (for example, if customising your workspace; for more information, see Customize menus and keyboard shortcuts).
Updated the Typefitter installer to our latest branding style guidelines.