Section Fields retain their value only throughout a single Typefi Section. Section Field values therefore can change from section to section.
Text or Counter
Section Field values can be either text or counters. Counters could be used for chapter numbers, or as a prefix for figure numbers that belong to a certain chapter number. Neither the value (number), nor the format (Arabic) of the counter can be defined within the content by the Author/editor. Instead, counters are automatically updated by the Typefi Designer plug-ins during page composition. Use of counters will allow Section content to be reused in different publications where the chapter order may change, without needing to renumber the chapters in the source files.
Note 1: At this time, only Arabic numbers can be used as counters. A future release of Typefi will allow for other numbering styles.
Note 2: Counters are updated automatically only when new Typefi Sections are inserted during page composition by Typefi. Insertion of normal InDesign sections during post-Typefi editing will not result in Counters being updated. This is because Section Fields are only associated with Typefi Sections. 
Create a New Section Field
Use the Typefi Fields Panel Menu and choose New Typefi Field, or click the Create New Field button at the bottom of the panel.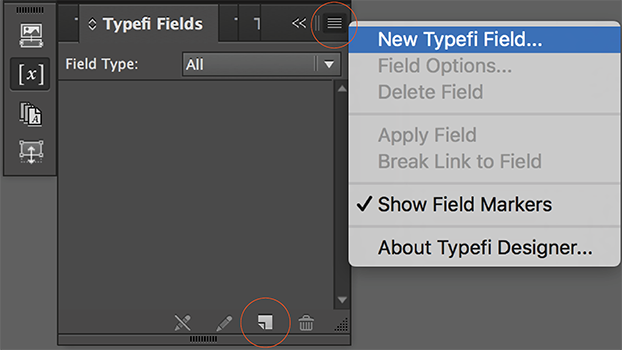 In the Typefi Field Options dialog, enter a unique name for the Field and select Section for the Type. Then select either Text or Counter for the Format.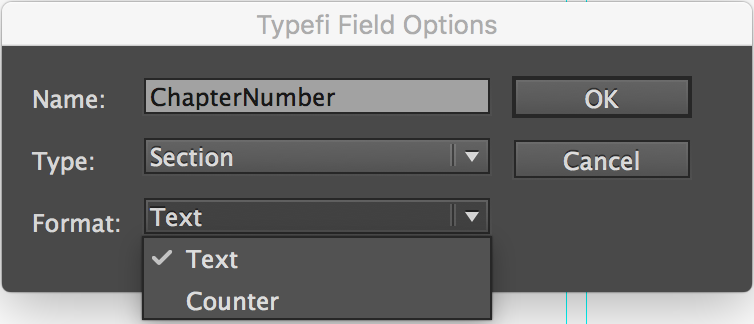 Text
Fields with Format set to 'Text' are filled with text by authors when creating a Section in Typefi Writer. In an XML workflow, Section Field text values are set by the XSLT based on the source content.
Counter
Fields with Format set to Counter are populated with numbers automatically. The numbering mode is defined as part of the Typefi Section definition.
To set the numbering mode, open the Section definition and click the Fields tab. Check the box next to the Field name, then click on the Field name to select it. Choose the numbering mode from the Style dropdown list. At this time, only Arabic (1, 2, 3, 4...) numbering is supported.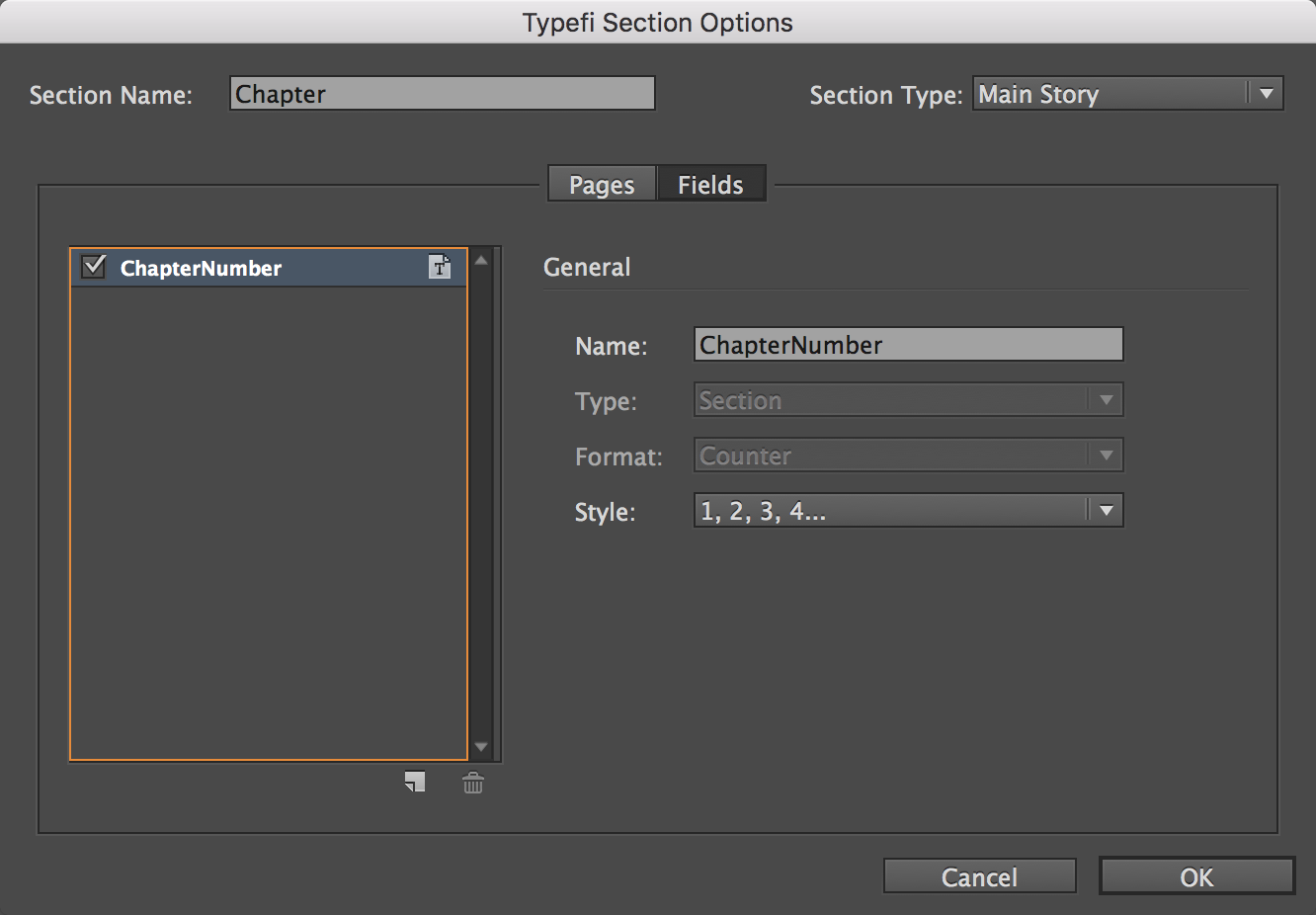 Apply Field to Placeholder Text
Placeholder text should only appear in regular InDesign text frames, never Typefi frames.

Select the text

 

In the Fields panel, double click the Field name, or

Select the Field name, then click the Apply selected field button (the pencil at the bottom of the panel)

The text will now have red brackets around it to indicate that it will be replaced by the field value when a job is run
 
You can also apply a Field without placeholder text:
| | |
| --- | --- |
| Place your cursor where you want the Field to appear | |
| Apply the Field the same way as above | |
| The name of the Field will be inserted and will have red brackets around it | |