Applies to Typefi Cloud v8.12 or later (Typefi Enterprise or Typefi Teams).
The SharePoint Connector for Typefi Server is a cloud-based application that enables you to connect your organisation's Microsoft SharePoint Shared libraries to your Typefi workflows using the SharePoint plug-in and workflow actions: Copy from SharePoint and Write to SharePoint.
Prerequisites
Please ensure the following requirements are met before connecting to SharePoint Online with Typefi Cloud.
Permission setup:

Your system administrator must accept permissions for the

SharePoint Connector. For step-by-step instructions, please see

Configure SharePoint Connector for Typefi Server.
Update:

Use Typefi Server v8.12 or later. (Typefi Enterprise customers, please request an update).
SharePoint plug-in setup:
Connect to SharePoint in Typefi Cloud
Once your organisation meets the prerequisites (see above), you can connect SharePoint Online to Typefi Cloud.
Follow these steps:
Sign in to cloud.typefi.net with your Typefi user credentials.
Click on your name in the User Menu, for example, John Smith (Typefi) and select

Connect to SharePoint.

Sign in using your organisation's Microsoft credentials, for example, jsmith@mycompany.com. (If an Approval required dialogue appears when you try to sign in, please contact your system administrator to configure permissions for the SharePoint Connector).

Click

Next.
Once you connect to SharePoint, you will see a list of Shared libraries under

SharePoint

→

Available access. (If you do not see an expected Shared library in the list, contact your organisation's system administrator).
Disconnect from SharePoint
Click on your name in the User Menu, for example, John Smith (Typefi), and select Disconnect from SharePoint.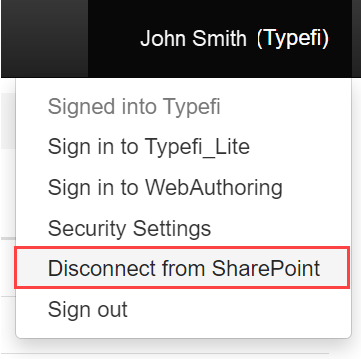 If you have any questions about connecting SharePoint Online to Typefi Server, please contact us. We're happy to help!
See also