Beginning in Typefi Designer 8.9 and Typefi AutoFit 8.9 (or later), Typefi introduced AutoFit Smart Guides—quick snap-to guides that appear when you create AutoFit relationships.
After you create an AutoFit relationship, you'll notice that Smart Guides are no longer visible. Instead, there will be an invisible object between the parent and child frames and a locked, empty layer in the Layers panel (Windows → Layers).
Selecting these invisible objects or empty layers may cause InDesign to stop responding and close abruptly.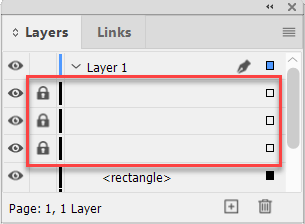 Workaround
Avoid selecting the locked, empty layers in the Layers panel to ensure your work in InDesign is uninterrupted.
If you need assistance or have any questions about AutoFit Smart Guides, please contact us. We're happy to help.