If Adobe InDesign presents this error during startup: "Adobe InDesign does not recognize TYPEFIAUTOFIT.PLN as a valid plug-in. Please reinstall the TYPEFIAUTOFIT.PLN plug-in and restart InDesign.", you have multiple conflicting copies of Typefi AutoFit installed.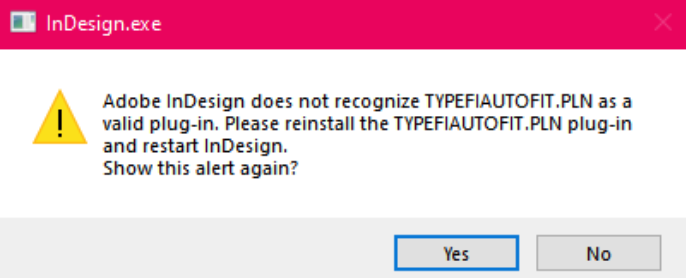 To fix this issue, manually uninstall and then reinstall Typefi AutoFit:
Quit InDesign.
Delete the Typefi AutoFit plug-in:

Windows: Go to Program Files/Adobe/Adobe InDesign [version number]/Plug-In and delete the plug-in listed from the original warning message.
macOS: Go to Applications → InDesign → Plug-ins → Typefi and manually delete the Typefi AutoFit Publish UI.InDesignPlugin and Typefi AutoFit Publish.InDesignPlugin.

While InDesign is still not running, reinstall Typefi AutoFit and then reopen InDesign.
If manually uninstalling and reinstalling Typefi AutoFit do not fix this issue, please contact us for further assistance.