Certain new features we develop for a workflow action may require updates to the interface. At the same time, we want to make sure that we do not interrupt your current production workflows. To allow for this, we have developed an internal versioning system that detects that a new feature is available within an action.
Practical example
In the screenshot below, you can see that the version of the action is 18.0.543. This action has not been updated for a while as we have introduced two features that are not available in this interface: the ability to choose a PDF crop box for placed content in v15 and the ability to point to a folder containing missing links in v18 (see Adobe InDesign plug-in release notes).

As long as you don't update the action, your workflows will run uninterrupted, but the new features won't be available to you. When you are ready to use the new features, all you need to do is click on the Action menu and choose Update.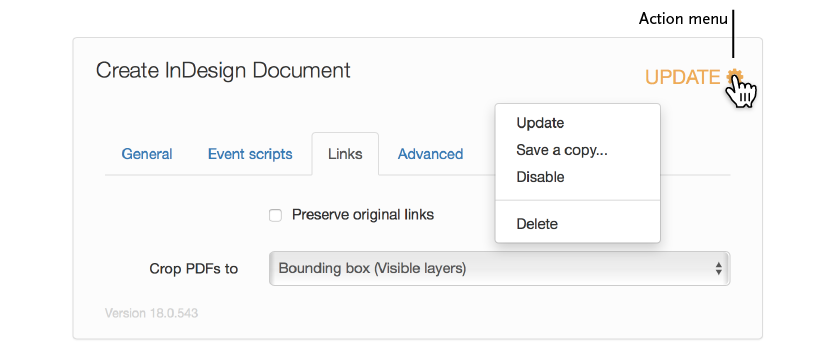 The update should be almost instantaneous, and the Links tab of the action would now have the two new options available in the interface.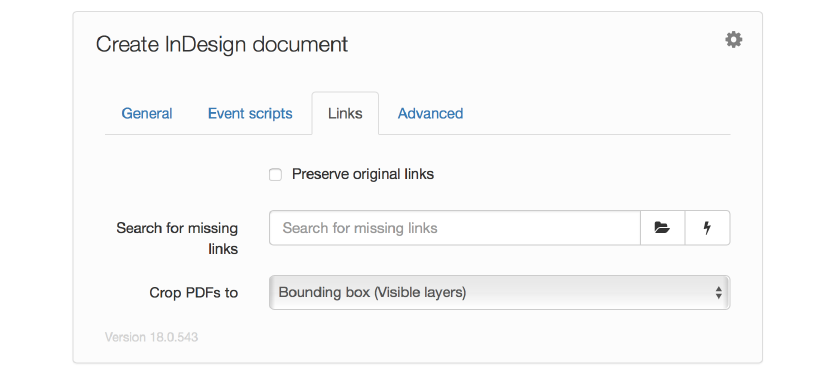 If you have any questions about updating a workflow action, please contact us. We're here to help.