When running a workflow, your web browser automatically refreshes the Jobs area so you can monitor your job's status and view its results in real-time. If you are not running a job but still want to see a list of all the jobs that have run or are currently running, click the Jobs tab.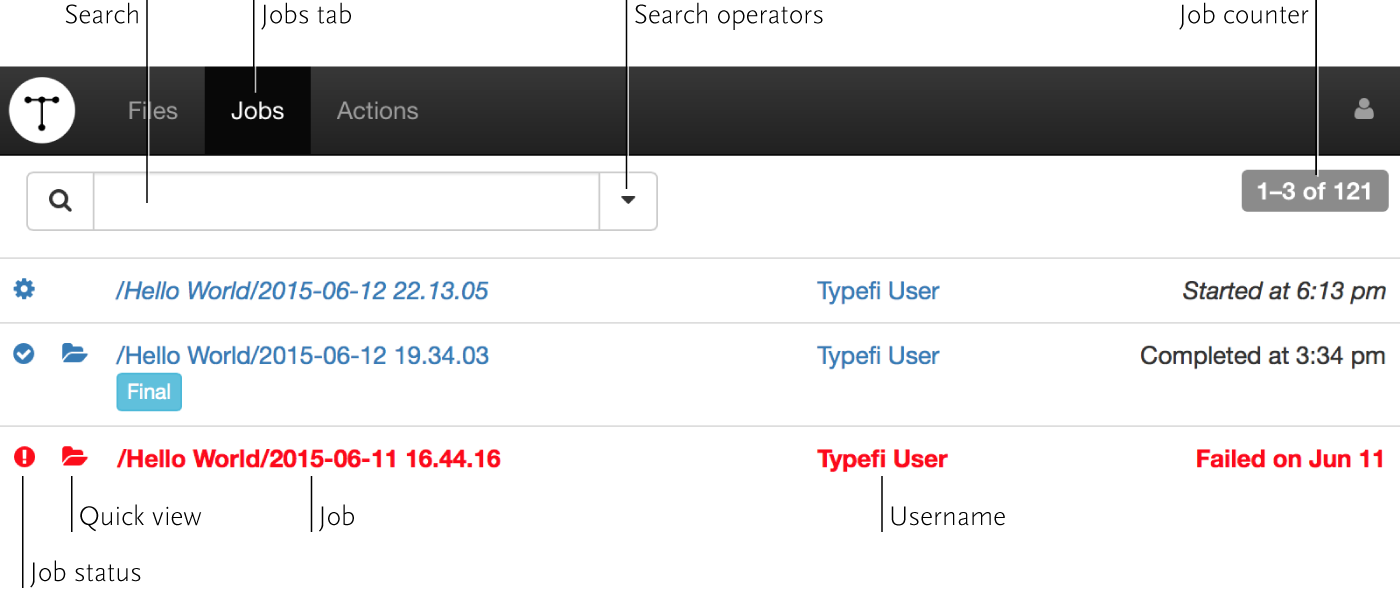 Jobs shows every job that has been run through Typefi. Jobs are listed in reverse chronological order, with the most recent job shown first. Recently completed jobs are listed by the job end time while older jobs are listed by date. The job counter, in the top-right corner, shows the currently visible jobs (for example, 1–3) and the total number of jobs run through the system (for example, 121).
The job status icon provides at-a-glance information about each job:
| Status | Description |
| --- | --- |
| | The job is queued. |
| | The job is in progress. |
| | The job completed successfully. |
| | The job failed. |
View the output
You can view the output of a job in two ways:
Click the Quick View icon to view a list of the outputs created by the workflow; or
Click on a job to go to the job details page.
Job details
The job details page shows more information about the job than Quick View, including a live view of the workflow log for in progress jobs, the ability to add and remove tags, and an export function to quickly gather together all the workflow inputs and outputs for diagnostic purposes.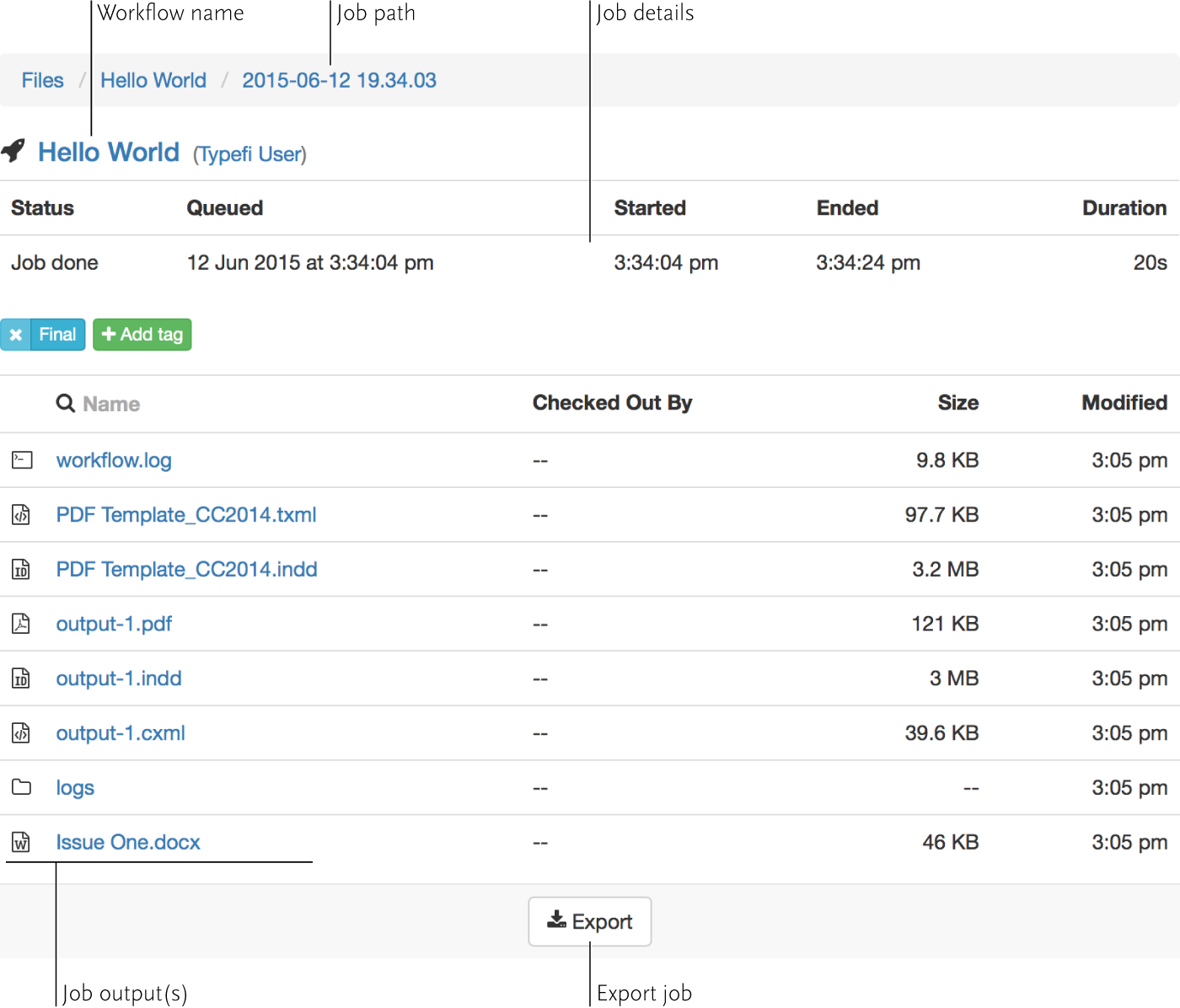 The workflow log
While a job is running, each action in the workflow triggers a series of events. To observe the events being performed by each action as they occur, click on the job path while the job is running. This is useful for seeing what happens when you run a workflow and for troubleshooting any problems that may occur.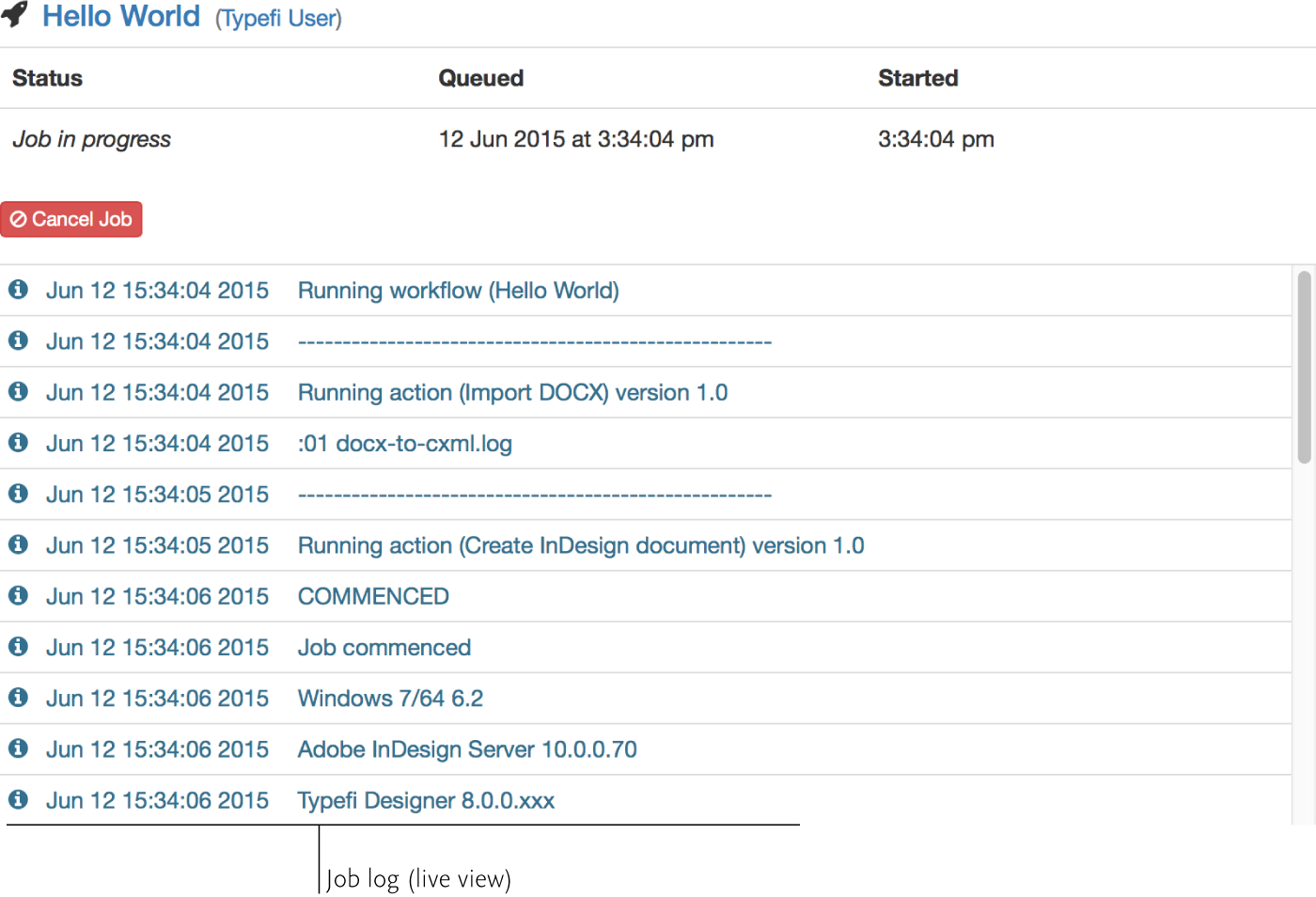 After a job completes, the workflow events for all actions are saved to the workflow.log file within the job folder. The workflow log offers two views: Text and Formatted.
Click Text to view a plain text version of the log.
Click Formatted to filter the log for errors and warnings.
The Filters tool provides three toggle buttons: Info, Error, and Warn.
Click Info to only view the informational messages in the log.
Click Error to only view the error messages.
Click Warn to only view the warning messages.
You can also enable multiple buttons (for example, Error and Warn) to view a combination of messages. Click a button again to toggle it off.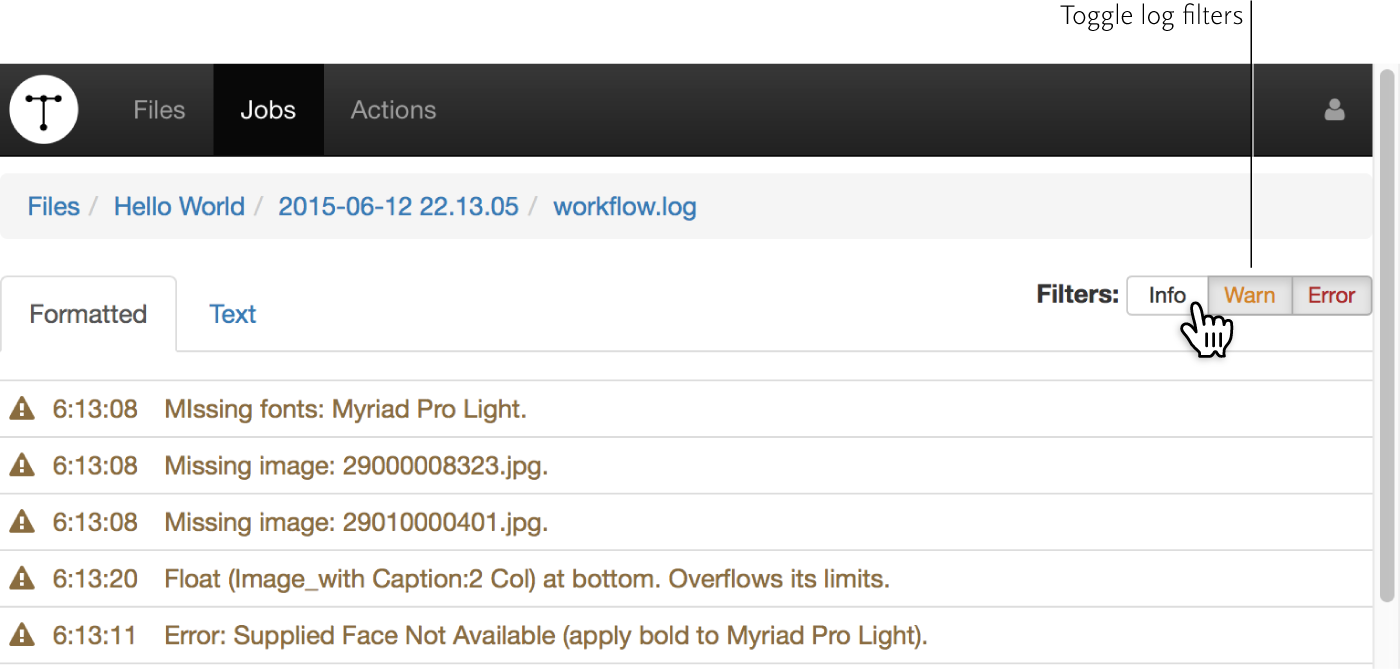 Additional log files for each individual action are available in the Logs folder for each job.
Cancel a job
Jobs that are running can be canceled in one of two ways:
Click the job status icon next to the job you want to cancel and then choose Cancel Job from the pop-up menu; or




Click on the job path to go to the job's details and then click Cancel Job.