Released 03 January 2021
We're pleased to announce that Typefitter 5.1 (v5.1.0.36) is now available. Typefitter 5.1 is available in different editions, Typefitter Standard and Typefitter Professional, depending on your typography needs.
Click for upgrading advice and to manage your Typefitter subscription.
Typefitter 5.1 is the first release of Typefitter 5 Professional. Typefitter 5.1 also includes new features and improvements to Typefitter 5 Standard.
If you have any feedback or run into any issues, please contact us.
Typefitter 5.1 system requirements
Microsoft Windows 10 (v1709 or higher); or macOS Monterey (12.0), Big Sur (11.0), or Catalina (10.15).
Adobe InDesign 2022 (17.x), InDesign 2021 (16.x), or InDesign 2020 (15.x).

Typefitter 5.1 natively supports Apple M1-based Macs with InDesign 2022 and InDesign 2021 (16.3+)

2 GB of RAM (8 GB recommended).
NOTE If you use Typefitter with Typefi Desktop, you must use Typefitter 5 Professional with the Typefitter Scripting add-on. Typefitter 5 Standard is not supported by Typefi workflows. Contact your solutions consultant for more information.
For more information about our end of support policies, see Typefi Product Support Lifecycle.
Downloads
Key benefits
Introducing Typefitter 5 Professional
With Typefitter 5 Professional, fitting text has never been so quick, simple and effective. Typefitter 5 Professional includes all the Standard features (Copyfit slider, white space river highlighters, finding typographic issues), plus custom Profiles and the ability to automatically fix many issues. With a single click, Typefitter Professional can fix oversets, short lines, imbalanced columns and more.
Pro-only

Set custom Typefitter Profiles

Profiles are a way for you to set granular controls for different types of text.

For example, you might set different Profiles for body text and headlines. In addition, each Profile can have different copyfitting rules, and different nudge amounts for the Copyfit slider.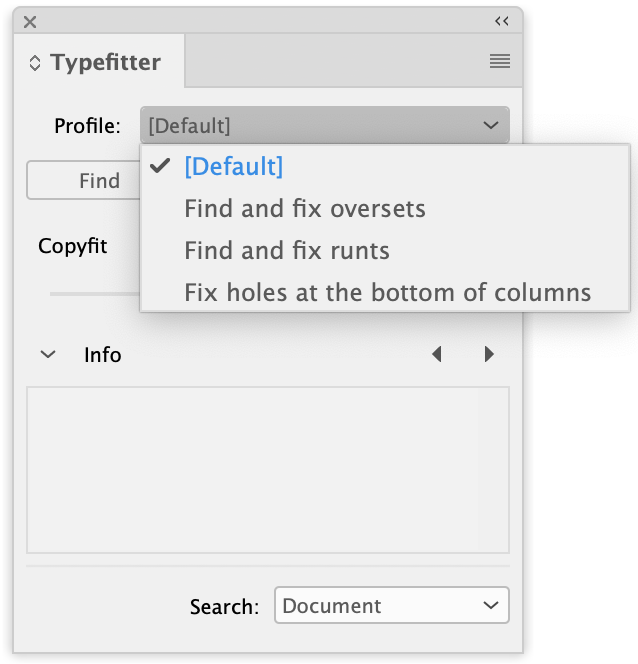 When you fix typographical errors with a Profile, Typefitter automatically applies the custom copyfitting rules you have defined within the current Profile.
To set up your Profiles, see Create and edit a Profile.
Pro-only

Fix and Fix All typographical errors

The Fix and Fix All buttons build on the foundation of Typefitter 5 Standard's Fix button to now automatically remedy common typographical errors, according to the selected Profile.
Pro-only

Do more with the Scripting Add-on

With theTypefitter 5.1 Professional scripting add-on, Typefitter can be integrated into any automated workflow. Apply custom Typefitter 5.1 profiles to different parts of your document simultaneously and leverage the power of Adobe InDesign scripting for greater control over your type.
Take advantage of the latest release of Adobe InDesign
Typefitter 5.1 adds support for InDesign 2022, released 26 October 2021. 🎉
Enhancements
Added scripting support. To see everything that the scripting add-on can do, see Compare Typefitter 5 editions.
Typefitter 5 is now fully localised in Spanish.
Typefitter for InDesign 2022 now refers to 'master pages' as 'parent pages'.
You can configure your Typefitter preferences to:

Detect tables with widowed or orphaned rows.
Set the minimum length of white space rivers. The maximum length is 9.

Added additional menu items to the Typefitter panel menu and InDesign Help menu:

What's new goes to the latest Typefitter release notes.
Help, Guides & Tutorials goes to the Working with Typefitter section in our help centre for step-by-step guides.
Report a bug goes to the submit a support request form.

Typefitter search modifiers are saved to the InDesign document.
Improved the tightening and loosening algorithm. Before, the algorithm could only apply a single rule attribute at a time to fix a particular rule violation. Now, the algorithm uses multiple rule attributes at once to fix a particular violation.
Typefitter 5 now fully supports IDML. Before, if you exported to IDML, you would lose any Typefit Styles that you'd created. Now, they are preserved.
The white space river highlighting now overlays both InDesign's Composition → Highlight effects and Typefi's Highlight Copyfit Text effect.
Made the uninstall process for macOS simpler. Before, you had to delete all the individual Typefitter files. Now the Typefitter files are all located at InDesign → Plug-ins → Typefi → Typefitter. To uninstall Typefitter, delete the Typefitter subfolder.
Updated the Typefitter installer to our current branding guidelines
Improved the user interface of the Typefitter activation dialogue. Now, the text is sized and formatted correctly.
Fixes
InDesign no longer crashes when fixing stories with short final columns.
Reworked our algorithm for finding typographic errors. Before, the Info pane combined multiple issues into a single issue without providing a suggested Fix. Now, the Info pane shows each Issue and suggested Fix separately.
Typefitter no longer gets stuck finding errors when Include Parent Pages (formerly Include Master Pages in InDesign 2021 and earlier) is unchecked.
The white space river highlighter now works without you having to reset your InDesign preferences or export the InDesign document to IDML.
When requested, Typefitter now deactivates instead of remaining active until you quit InDesign
After deactivating Typefitter, the status message in the About dialogue now shows 'Evaluation expired!' instead of '-1 days left for evaluation'.
Known issues
Notices
Typefitter is a subscription product. You can try out Typefitter for 6 weeks without a subscription. After the trial has ended, you'll need to purchase a Typefitter subscription to continue using it. After the trial period has ended, you will no longer have access to any Typefitter features until you purchase a subscription. However, Typefitter is not a required plug-in, and you will still have full access to your InDesign files after the trial period has ended.
Adobe Creative Cloud notices
Adobe updates and adds new features to the Creative Cloud on an ongoing basis. Both because earlier versions are uninstalled by default, and because Creative Cloud updates may break compatibility with Typefi, we recommend disabling or deselecting both Auto-updates and Remove older versions for Adobe InDesign. For more information, see Update Creative Cloud apps.
In May 2019, Adobe announced changes to Creative Cloud download availability that limited direct download access to the two most recent major versions of Creative Cloud apps. Concurrent with this change, Adobe either recommends or requires your operating system to be no earlier than two versions back.
For more information, see: InDesign system requirements, InDesign Server system requirements, and Do my Adobe apps work in macOS Catalina 10.15?.