On this page
See also: Working with Equations (Writer)
Overview ↩
Working with equations in Typefi isn't hard, but it does impact a number of components within your workflows and requires some forethought as to how you author equations and whether you format your equations in MathML or as equation images.
This document is an overview of the techniques and technologies required to create a seamless experience when working with equations in Adobe InDesign. For information on working with equations in Microsoft Word-based editorial and authoring workflows, see Working with Equations (Writer).
Equation images (also frequently know as "MathType EPS") have been used for decades as a method of including complex equations in publishing workflows, and Typefi has long supported this workflow. But for more modern workflows, especially where accessibility is increasingly important, we recommend MathML instead.
MathML is a low-level specification for encoding both the presentation of mathematical notation and mathematical content.
Adobe InDesign and InDesign Server only support MathML through a third-party plug-in, Movemen MathTools. MathTools provides native equation editor functionality—equations are expressed as fully editable text, not inline equations—and MathML import/export features.
WIRIS
MathType
Movemen
MathTools
Unicode® support
Unicode 2.0*
Unicode 5.1/6†
TeX/LaTeX notation
yes
no
MathML support
yes
yes
Equation images
yes
yes‡
Application type
external app
InDesign plug-in
Accessible output
yes§
yes
* MathType supports MTCode, which is based on Unicode 2.0 (1996) with additional support for some Unicode 3.1 (2002) and Unicode 3.2 (2002) math characters via the Unicode Private Use Area (see MTCode Encoding Tables).
† InDesign CS6 through InDesign CC 2015 support Unicode 5.1; Adobe InDesign CC 2017 and CC 2018 support Unicode 6.0.
‡ MathTools imports MathType EPS equation images to create MathZones within InDesign, and can optionally export equation images for compatibility with EPUB readers that don't support MathML (for example, Kindle).
§ Accessible HTML or EPUB output requires MathTools v3 or later to replace the unintelligible equations exported by InDesign with either MathML or equation images with alt text.
WIRIS MathType (equation images) ↩
Equation images are often the default format used within publishing workflows because they are the most compatible. However, equation images require post-processing to align their effective baseline with the actual baseline of any surrounding text.
Typefi provides a MathType alignment script for InDesign (it runs at the Spill End script event) that automates the detection of MathType EPS equations (so as not to affect other EPS graphics) and adjusts their vertical alignment to reconcile any baseline differences.
NOTE Editing a MathType EPS equation with another application, such as Adobe Illustrator, will remove the comments that MathType embeds in the header of its EPS files. These comments are required to determine that the equation is a MathType EPS equation (%%Creator: MathType), as well as the baseline offset needed to align the equation with the surrounding text (for example, %%Baseline: 14).
When the MathType alignment script runs within a workflow, it first turns off Skip By Leading and then adds the character and object styles it needs to your InDesign document (your original InDesign template is unchanged):
Disables Skip By Leading (Preferences → Composition → Text Wrap). The technique for creating space below an inline equation image uses text wrap. If Skip by Leading is enabled, too much space can appear below each equation image.
Creates a character style named AutoLeading at the top level of the Character Styles panel. This style is used to ensure that an equation image does not collide with the preceding line of text. The only formatting it applies is Auto leading.
Creates an object style named InlineEquation6 within a style group named MathType. The only attributes it applies are:

Text Wrap & Other → Text Wrap is set to Jump Object with Offsets of 0p0 top, -0p3 bottom, 0p0 left, and 0p0 right.
Anchored Object Settings → Position is set to Inline with a Y Offset of -0p6.
Next, it finds each MathType EPS equation and applies derivative InlineEquation object styles (based on the original InlineEquation6) as needed for each unique %%Baseline value it finds.
TIP MathType doesn't calculate the bounding box for its EPS equation images using float values, so precise horizontal alignment with text above/below is not possible unless the excess fractional white space is trimmed. The MathType alignment script can automate this, but requires that you first create a MathType trim table for each font used in your equations. For information on how to create a MathType trim table, contact your Typefi Solutions Consultant.
Movemen MathTools (MathML) ↩
MathTools is a set of plug-ins for Adobe InDesign and InDesign Server that adds native equation editor functionality and MathML import/export. MathTools equations are fully editable text, not inline images.
After enabling MathTools (select Math → Enable Math for Current Document), you can begin creating equations, which MathTools calls MathZones. MathTools supports several methods for creating MathZones:
Math → Toolboxes (new in MathTools v3). Math Toolboxes are interactive palettes that help you insert expressions by type. They are quite similar to the equation palettes used by Microsoft Equation Builder and Wiris MathType; or
Math → MathZone → Create from Inline Equation Images. MathTools extracts MathML embedded within a MathType EPS equation image and applies Math Styles to the associated components of the expression. You can customize Math Styles to adjust their appearance similar to how you edit a Character Style.
Scripting. You can also enter or copy-paste MathML strings into any text frame and then convert that text into a MathZone using InDesign scripting.
NOTE Typefi requires MathTools Enterprise edition; MathTools Pro doesn't include the necessary scripting support for integration with Typefi workflows.
If your workflow includes MathML (for example, you've authored equations using Microsoft Equation Builder in Typefi Writer), Typefi provides a MathML handler script for InDesign (it runs at the Document Start script event) to properly pass through MathML equations into InDesign, followed by an additional MathML to MathZone conversion script (that runs at the Spill End event) to convert this raw MathML notation into native MathZones.
If your workflow instead uses MathType EPS equation images, Typefi provides a MathType to MathZone conversion script (which runs at the Spill End event) to extract the embedded MathML from within the MathType EPS to create native MathZones (and remove the MathType EPS graphics).
Additional InDesign scripts can be used to apply advanced processing to equations or address limitation in the plug-in's handling of equations at the top or bottom of a text frame. For more information on scripting MathTools, contact your Typefi Solutions Consultant.
Typefi also supports MathTools-enabled EPUBs that replace the unintelligible equations exported by InDesign with:
Equation images with MathML encoded within the alt tag (for most other EPUB readers that don't support MathML, including Kindle).
For more information about MathTools, see the Movemen Knowledge Base.
Note:
If you need to share a MathTools-enabled document with someone else that does not have MathTools, they need to download and install the free
MathTools Reader plug-in
or risk causing irreparable damage to your equations.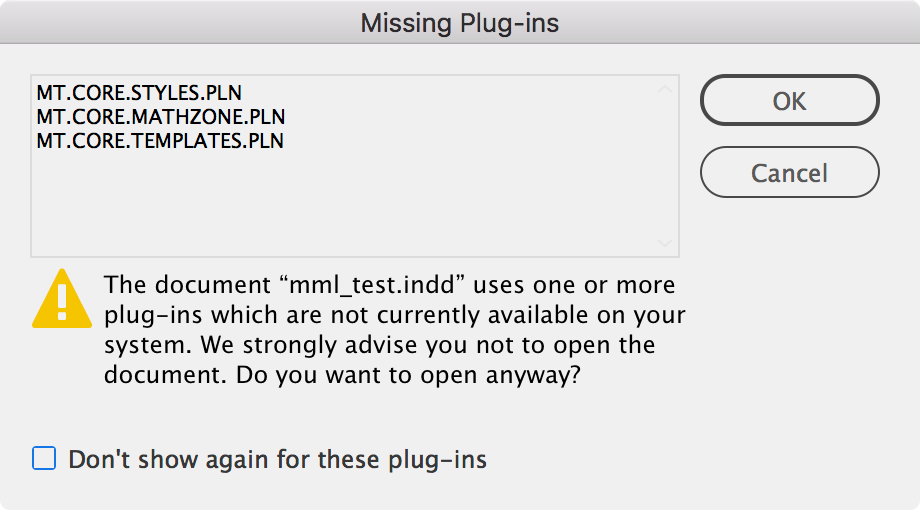 For information on Movemen MathTools and how it can integrate into your Typefi workflows, contact your Typefi Solutions Consultant.