A Project Field is a field in which the value remains the same throughout all sections of a publication, regardless of the section in which it might appear. 
In the InDesign template, a Project Field will have a name and a placeholder on a master page. The placeholder should NOT be put in a Typefi Frame (such as Main Story, Element Content, etc.) because any pre-existing content in those frames, including any Field placeholders, will be replaced by actual content during page composition. 
A Project Field's value can be set in several ways:
Edit Metadata action in a Typefi Workflow (for XML and Writer workflows)
Via an XSLT, but only if the field value can be derived from the source file (for XML and Writer workflows)
Fields button in the Typefi ribbon in Word (for Writer workflows only)
Fields button in the Publish (Typefi 8.3 or later) or Print dialog in Word (for Writer workflows only)
Create a new Project Field
Use the Typefi Fields Panel Menu and choose New Typefi Field, or click the Create New Field button at the bottom of the panel.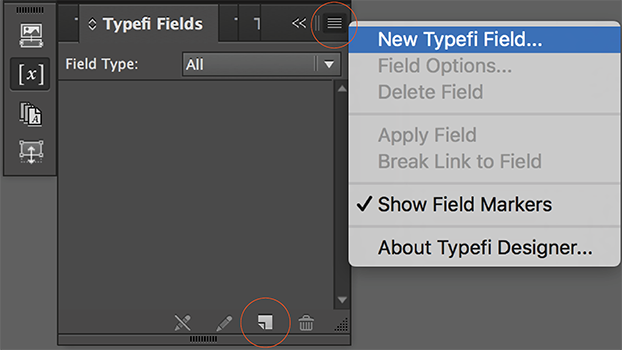 In the Typefi Field Options dialog, enter a unique name for the field and select Project for the Type.

Apply Field to Placeholder Text
Placeholder text should only appear in regular InDesign text frames, never Typefi frames.

Select the text

In the Fields panel, double click the Field name, or

Select the Field name, then click the Apply selected field button (the pencil at the bottom of the panel)

The text will now have red brackets around it to indicate that it will be replaced by the field value when a job is run
You can also apply a Field without placeholder text:
| | |
| --- | --- |
| Place your cursor where you want the Field to appear | |
| Apply the Field the same way as above | |
| The name of the Field will be inserted and will have red brackets around it | |