DeltaXML provides high-performance, accurate comparison for all XML documents and data. It is guaranteed to find all the changes in your XML—every change, whether to an element, attribute or content, is represented in XML for easy downstream processing. For more information about the DeltaXML plug-in, please get in touch.
---
The latest version of the DeltaXML plug-in is 8.0.87, released on 30 May 2023.
We release updates regularly, and it's our goal to make sure that our software works well, constantly—that Typefi continues to deliver, every day. If you have any feedback or run into any issues, please drop us a line. We're happy to help.
8.0.87—30 March 2023
New Features
The latest DeltaXML plug-in (v8.0.87) comes bundled with XML Compare (v14.0.2), combining two workflow actions into one!
Before, Compare XML and STS Redline actions were separately configured. Now you can add your customised resources to the new DeltaXML compare action.
The new user interface for the DeltaXML compare workflow action includes an optional Resources field that allows you to input your XZIP files containing DCP pipelines and XSLT filters without needing additional actions in your workflow.
Check out the new user interface!
To learn how DeltaXML integrates into your Typefi workflows, please visit the help articles: DeltaXML plug-in and Run DeltaXML compare.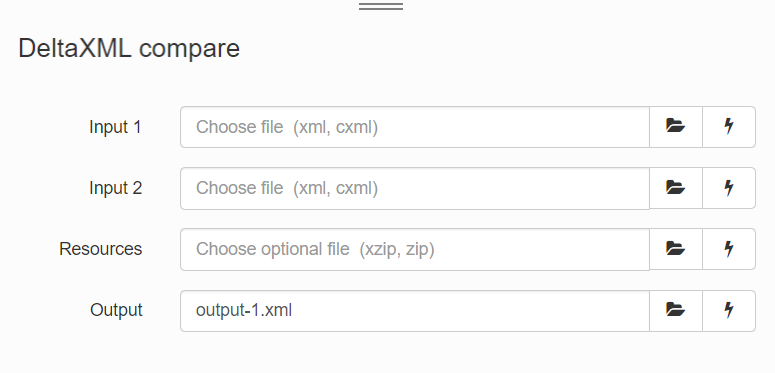 Improvements
In Descriptor.Json: added descriptions for each input field in the actions.
Updated the Java library and API to DeltaXML compare (v14).
Fixes
Fixed an issue that prevented license installation.
Updated the plug-in icon to match the new DeltaXML logo.
Fixed an issue that caused jobs to stall by upgrading to DeltaXML (v14)
Fixed an issue with the new license that gave the error: signer information does not match.
Updated Spanish localisation.
7.0.61 — 28 May 2019
Updated STS Redline workflow → isosts.jar to 1.0.3.
6.0.55 — 14 August 2018
Updated STS Redline workflow → isosts.jar to 1.0.2.
5.0.54 — 01 August 2018
Added acknowledgements for our contributors, whose efforts over many years have made this software what it is (click the workflow plug-in version number to view).
Updated common-server-sdk library to 1.1.7.
Updated Spanish localisation.
4.0.38 — 04 December 2017
Added STS Redline workflow action for comparison of ISO STS xml.
3.0.28 — 18 July 2017
Updated to support the new DeltaXML licensing scheme.
Updated common-server-sdk library to 1.0.8.
Updated Spanish localisation.
2.0.14 — 16 February 2017
First customer release.
1.0.6 — 05 December 2016
Internal release.